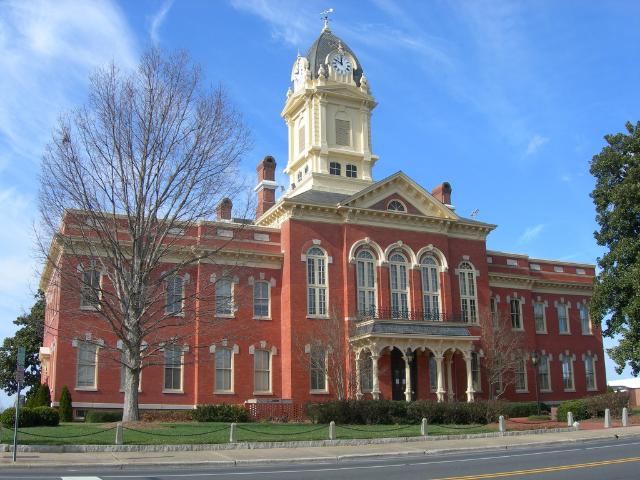 UNION COUNTY COURTHOUSE
MONROE, NC


Established in 1842, Union County is one of the fastest growing counties in the State of North Carolina. It provides a unique blend of rural and metropolitan lifestyles. While having vast areas of nature untouched by development, it also has areas flourishing in suburban and industrial growth. The primary factors contributing to Union's economic growth are agriculture, business and industry. Situated in the south central piedmont area of North Carolina the population is estimated at 193,255 with approximately 643 square miles of land.
Union is in close proximity to the City of Charlotte, bordering the Charlotte/Mecklenburg County line. Recently constructed is the I-485 beltway around Charlotte. It borders Union County to the west and provides convenient access to all areas of Charlotte. Currently Union has five areas of entry to this interstate.
The municipalities in Union County offer a small town style with metropolitan conveniences such as shopping malls and a commuter airport. Union's incorporated towns and villages with functioning governments are Fairview, Hemby Bridge, Indian Trail, Lake Park, Marshville, Marvin, Mineral Springs, Monroe (the County Seat), Stallings, Unionville, Waxhaw, Weddington, Wesley Chapel and Wingate.
Education is of utmost importance to Union County citizens. There are over 53 fully accredited public schools serving more than 39,000 students. Citizens also have ready access to nationally ranked colleges and universities.
Union County has the distinction of being the birth-place of two world-famous individuals. Country music sensation and movie star Randy Travis was born and raised in Union County. United States Senator Jesse Helms was born in Monroe and attended Wingate College (now Wingate University).
For recreation Union offers many diverse activities. Outdoor enthusiasts can enjoy hunting, fishing, boating, swimming and hiking. Union's Cane Creek Park is home to one of three North Carolina trophy bass lakes. Golfers can choose from many beautiful public and private golf courses. Union also plays host to the Charlotte Steeplechase, a prestigious annual event. In addition to sporting activities, Union offers many other recreational pastimes. For history buffs there are several area museums. For antique hunters the town of Waxhaw has its famous antique shops. Throughout the county there are regularly held fairs, festivals and celebrations. Union is also conveniently located just three to four hours from the mountains or the seashore.
All of these aspects combine to make Union County a serene yet exciting and advantageous place to live and work.