Welcome to Mint Hill NC!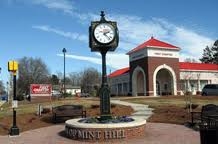 Visit Mint Hill's Official Website
View Mint Hill NC Homes for Sale
Mint Hill lies in a rural corner of Mecklenburg County covering approximately 20 square miles along the eastern edge of the county. Mint Hill is a great place for those seeking small town living with a peaceful rural flavor. Many citizens are lifelong residents and the sense of community and family ties is very strong.
Until recently, growth in Mint Hill was relatively slow compared to the rest of the Charlotte area. Completion of I-485 around the town in 2003 with five interchanges within town limits increased accessibility to other parts of Charlotte. Mint Hill now has excellent access to Charlotte's employment centers and Charlotte's Douglas International Airport. Mint Hill is a 30 minute commute from uptown Charlotte and from the University of North Carolina at Charlotte.
Mint Hill's town center is at the intersection of Lawyers Road and Matthews-Mint Hill Road. Once this area had just a few buildings and businesses, including the Town Hall and a few shopping areas nearby. Now development of this area is underway with housing, community shopping centers and office parks creating an expanded center for the town.
Construction of a regional mall at Lawyers Road and I-485 is expected to begin in 2008. The Bridges of Mint Hill, constructed with an open air streetscape, will include a shopping district and an entertainment district connected by a series of bridges over picturesque Goose Creek.
While Mint Hill offers a respite from the hustle and bustle of city life, it has great access to the amenities of Charlotte and is developing its own community amenities within town limits. The beautiful rolling countryside of Mint is truly where town meets country.